Build The Ultimate Gaming Desk
Built for

Peak Performance

Get
Closer
with the Ergo Edge™ Desktop.
Providing optimal ergonomic wrist and forearm positioning for superior in-game performance and comfort. The unique ergonomic design means you'll comfortably reach 22% more of the gaming desktop. Game on. Strain off.
Learn More ›

Laser
Accuracy
with the EvoGuard™ Finish.
A tough-as-nails gaming desk with a smooth, stylish finish. The surface is finely textured with thousands of microscopic, high-intensity light reflecting points, creating the perfect surface for next-generation gaming mice tracking capabilities.
Learn More ›

Adjustable.

Future Proof.
The Evolution™ Frame System.
Adjusting the gaming desk is "level-1" simple. Press a button and the Evodesk moves to a favorite position for the ultimate ergonomic gaming posture. The Evodesk smart frame also expands laterally to support any desktop 48-90 inches long. And at full expansion, it's still strong enough to lift even the most epic gaming setup. Strength and adaptability. It's how you win.
Learn More ›

Go
Stealth
with SmartPass™ & Cable Management.
Achieve ultimate focus. Keep cables organized and out of sight. Cords are snaked through the Smartpass™ cable pass-through then bundled in the Cable Management Tray. Wires stay off the floor and out of your mind to put the focus on domination.
Learn More ›
Clear
the board
with Evodesk Monitor Arms.
Elevate your monitor and your gaming skills with Evodesk monitor arms. Clear off desk space and fluidly reposition the screen for improved eye comfort and focus. Single or dual monitor arms keep the gaming desk as pristine as a character on a winning streak.
Learn More ›


Customize
& Conquer
with Thousands of Different Configurations.
You spend the time creating characters from the ground up — why settle on a cookie-cutter desk? Build the ultimate gaming desk with over 8,000 unique Evodesk combinations just waiting to be crafted into the ultimate loot: a rig that's stylized just for you. Characters needs the right gear to be lethal, a gaming desk is no exception.
Customize Now ›

Sit. Stand.
Dominate.
Improve your HP and your character's XP. Stand, stretch your legs and still stay in the game. Even while leveling, press the power height adjustable button, and the gaming desk rises up or down at 1.5 inches per second to one of 250 different height positions. Standing breaks give a ton of bonuses like improved mood, concentration, creativity and focus. Also, medical researchers have found that standing a few times per hour is better than once-a-day exercise so you and your character can both buff up. Elevate your game.
"Loving my new @evodesk so glad I chose the ergo edge and the cable tray for that clean look "
@machojeremy
"@JoeKaiserSports @cfrelund Bought a stand/sit desk from @evodesk and it changed my world. Changed.My.World."
@Socrdave
"Amazing details ! Great product and customer service ! Highly recommend @evodesk #evodesk thanks ! #happy #geek "
@pamirrimap
Select &
Customize
Your Gaming Desk Configuration
Because it's never been "just a game," we built the ultimate gaming desks designed with our fan-favorite features. Customize and conquer.
Or Build Your Own - Starting at $599 ›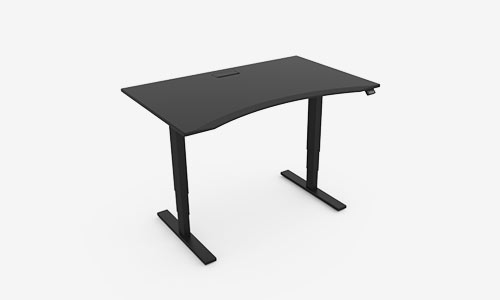 Good
Level 1
High-performance gaming needs a high-performance gaming desk. Ergo Edge™ is equipped to decrease wrist discomfort and increase the win-rate.
Customize ›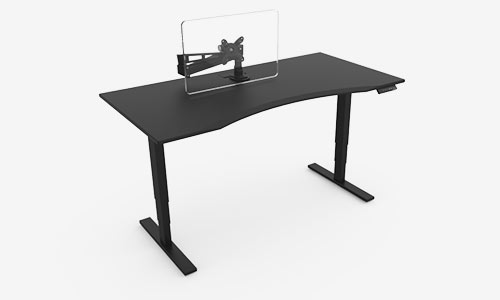 Better
Level 2
Engineered to outlast opponents, climb into the Ergo Edge™ cockpit, adjust the monitor arm, and snowball the enemy.
Customize ›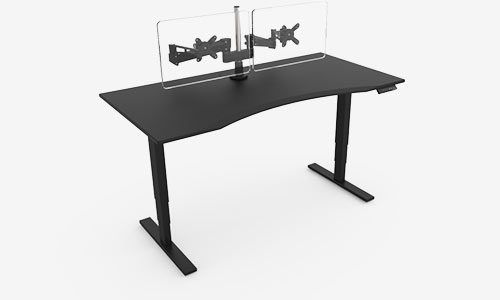 Best
Level 3
Experience a gaming desk equipped with dual monitor arms and Ergo Edge™ for maximum comfort and maximum gaming potential.
Customize ›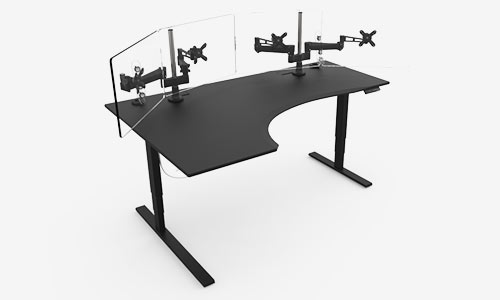 Ultimate
Level 4
Sounds will strike at full force with the Harman Kardon® Integrated Sound System. You'll swear you are standing in the game.
Customize ›
Special Offer
Evolve Today.

Pay Later.
With PayPal® Credit® you can bring home EvoDesk today with No Payments and No Interest for 6 months*
Learn More ›
Shop Now ›

Join Our Mailing List for
Special

Offers & Promotions

Private. Secure. Spam-Free.