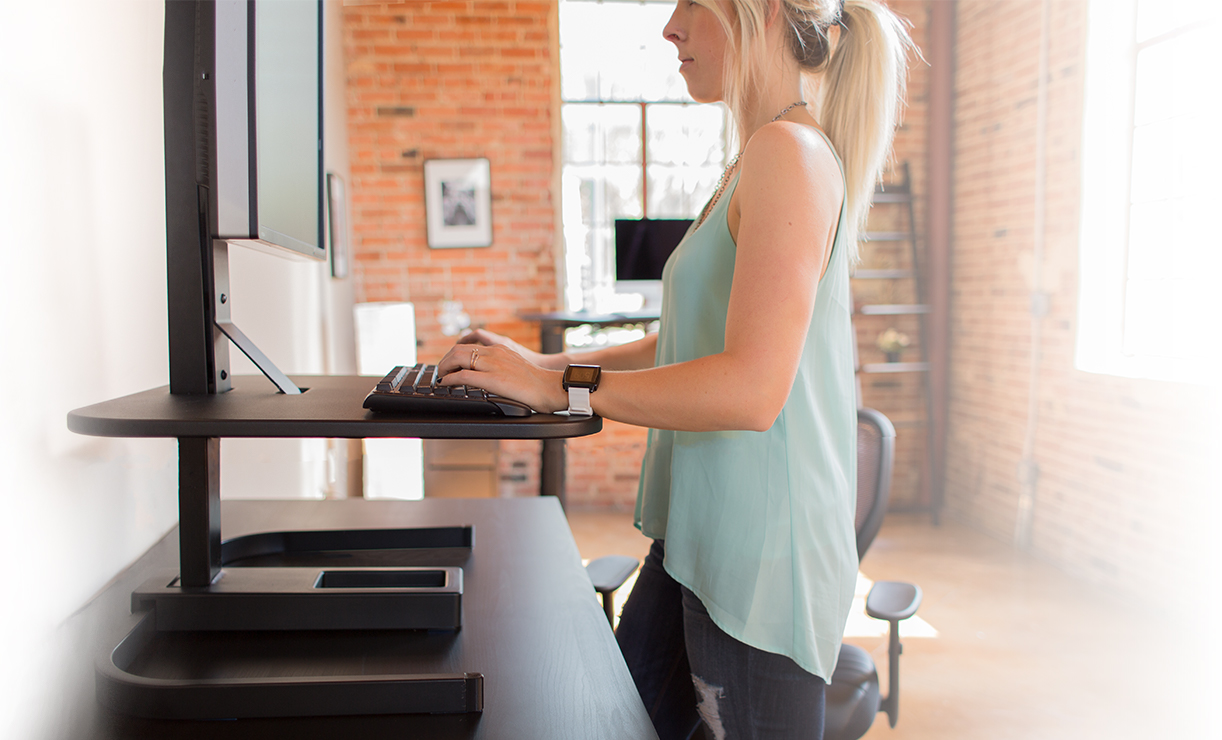 Life In Motion
Add Movement to your day
Humans are not designed to be sedentary, but our work environments and habits try to make us that way. You're probably familiar with the health benefits of standing incrementally throughout the day, and in order to adopt this healthy, sit-stand lifestyle, you need a desk that adapts. That's where the Evodesk XE comes in. It fits perfectly onto your existing desk and moves effortlessly with the push of a button to your precise ergonomic height. The XE is truly the simple solution for everyone, regardless of their desk environment. Enjoy all the benefits of a larger power-adjustable height desk in a smart, compact frame.
Explore the Benefits of Standing ›
The Perfect Fit
Compatible with Any Standard Desk
The XE quickly turns your desk into an ergonomic workstation. Installation is as easy as setting the XE onto your existing desktop and pressing a button. There are no hand cranks, scissor lifts, or clunky hand brakes required to lift the XE to your optimal height. Plus, its soft-start and soft-stop technology means anything you have on your desk moves without being jarred or unsteady—even your cup of coffee.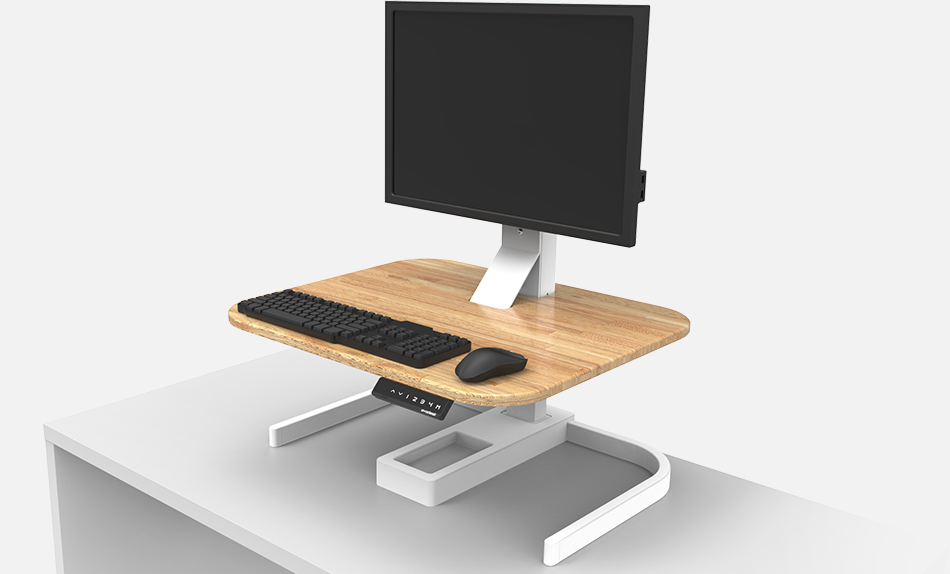 "No need for photo frames when your entire desktop is covered by the latest family picture."

"It was only a matter of time. After years of being able to customize your phone and computer casing with personalized skins, you can now do the same with your office desk."

"[This] new product allows us to gussy up our desks."

Also Featured in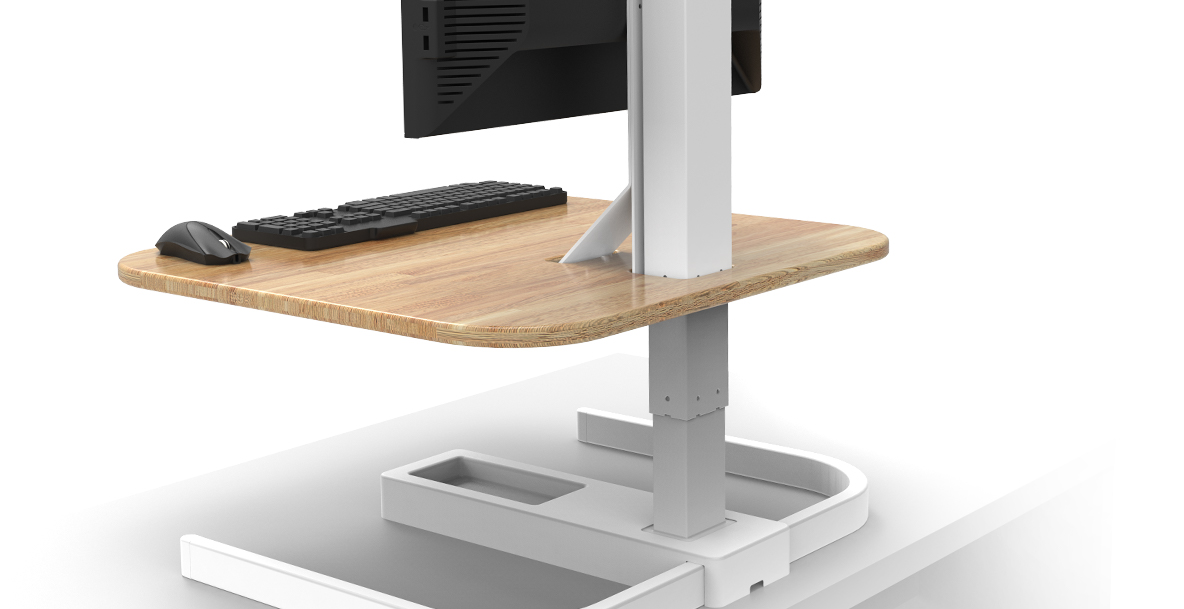 Strength in Design
Move with Power
Inside the XE is a best-in-class microprocessor-controlled lift system. 24-volt DC motors power the XE through transitions with whisper-quiet sound. Because there are no clamps or mounts, the XE effortlessly lifts up to 100 pounds while remaining stable and safe even at a speed of 1.5 inches per second. With a vertical lifting range of up to 20.75 inches, your optimal ergonomic height is effortless to attain.

Solid. Sustainable. Sophisticated.
Eco-friendly Desktop Options
Evodesk is known for its sustainable materials and high quality design, and the XE is no exception to that rule. Choose from completely eco-friendly Bamboo, natural Rubberwood or recycled Wood Composite desktops for a warm, natural aesthetic. EvoGuardTM solvent-free coating gives the recycled wood composite superior mouse tracking abilities and surface protection. The XE's surface options are not only sleek, but durable, with a scratch and wear resistant coating to ensure a lasting beauty.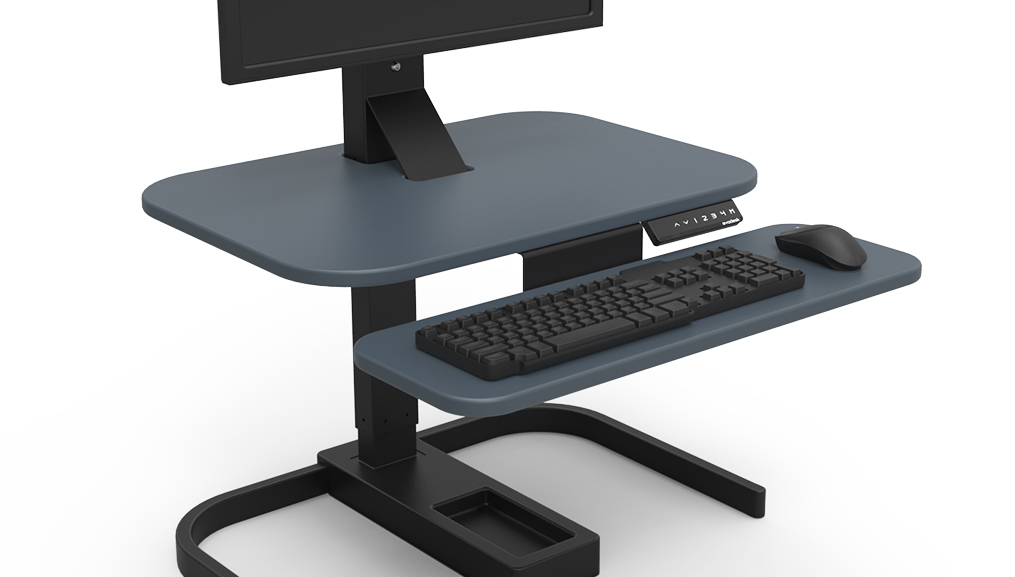 Heightended Stability
Superior Frame Construction
The XE desktop is supported by a highly durable metal frame for maximum stability in both high and low positions. A baked-on powder coating protects the finish from scratches and wear to ensure lasting beauty. Additionally, its durable, high-quality appearance is achieved without solvent-based paints. Infallible stability, beautifully designed.
Evodesk XE Features
Rising Above the Rest
Power Adjustable
High-Strength Metal Frames for Maximum Stability
Unibody Construction: Out of Sight Internal Motor Design
Robust Internal Threaded Spindle for Quiet Transitions
Dust, Air, and Moisture Resistant
Smooth Soft-Start and Soft-Stop Technologies
No Dangerous Scissor Lifts of Clunky Counterbalancing Mechanisms
Power Electric System Raises Straight Up and Down
Monitor Can Be Mounted Directly to XE
Baked-on Powder Coat Finish in 3 Colors
No Solvent-Based Paints
Maximum Height: 40"
Weight Capacity: 100lbs
Rounded Corners and Edges
EvoGuardTM Solvent-Free Coating for Superior Mouse Tracking and Surface Protection
Eco-friendly Bamboo, Natural Rubberwood, or Recycled Wood Composite.
Desktop Made in USA
Whisper-Quiet Decibel Level During Movement
1.5 Inches per Second Transition Speed
Programmable Controller
5-Year Warranty
| | | |
| --- | --- | --- |
| | | The Other Guys |
| | | |
| --- | --- | --- |
| Power-Adjustable Height Technology | | |
| Dangerous Hinged Lift Mechanics | | |
| Nearness to existing desktop | 3.30" | 5" |
| Weight Capacity: | 100 lbs | 35 lbs |
| Speed | 1.5 inches per second | Manual Transition |
| Maximum Height | 18.45" | 15.5" |
| Desktop Depth | 23" | 22.5" |
| Keyboard / Mouse Tray | Yes, Optional | |
| Monitor Mounts | | |
| Desktop Composition | Recycled Composite Wood | Particleboard |
| 100% recycled wood desktop | | |
| Plastic-Free Desktop | | Plastic laminate standard |
| Comfort Edges & Radius Corners | | Sharp laminated edges & corners |
| Environmentally Friendly Solvent-Free Metal Finish | | |
| Easy start/soft stop | | |
| Predrilled Desktops | | Varies |
| Posi-Loc™ Steel Deskop Inserts | | |
| Zero Solvent Based Paints | | |
| Assembly Time | Yes, 15 min or less assembly | No, 1 hour assembly |
| Fingerprint Resistant Desktop | | |
| Programmable Controller | Available | |
Special Offer
Evolve Today.

Pay Later.
With PayPal® Credit® you can bring home EvoDesk today with No Payments and No Interest for 6 months*
Learn More ›
Shop Now ›

Join Our Mailing List for
Special

Offers & Promotions

Private. Secure. Spam-Free.