MORE
POWER


MORE

STABILITY

The new Evodesk Pro pairs power-adjustable height with brawn to build upon its enduring legacy as the best value in electric adjustable desks. That legacy is elevated by an all new design delivering increased power and stability. Four microprocessor-controlled lifting columns arranged in unique 45 degree geometry o?er a visual cue of increased potential.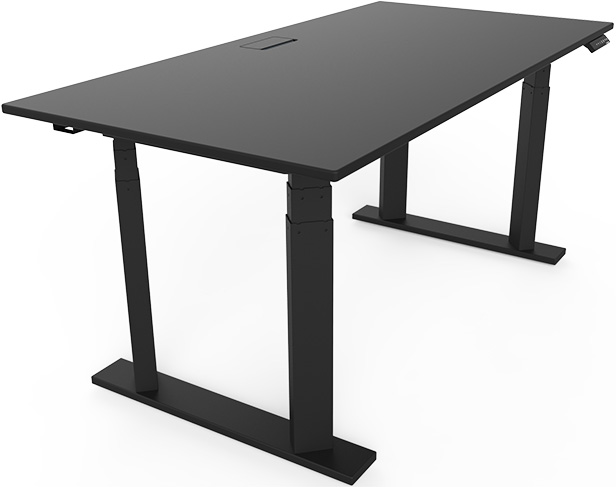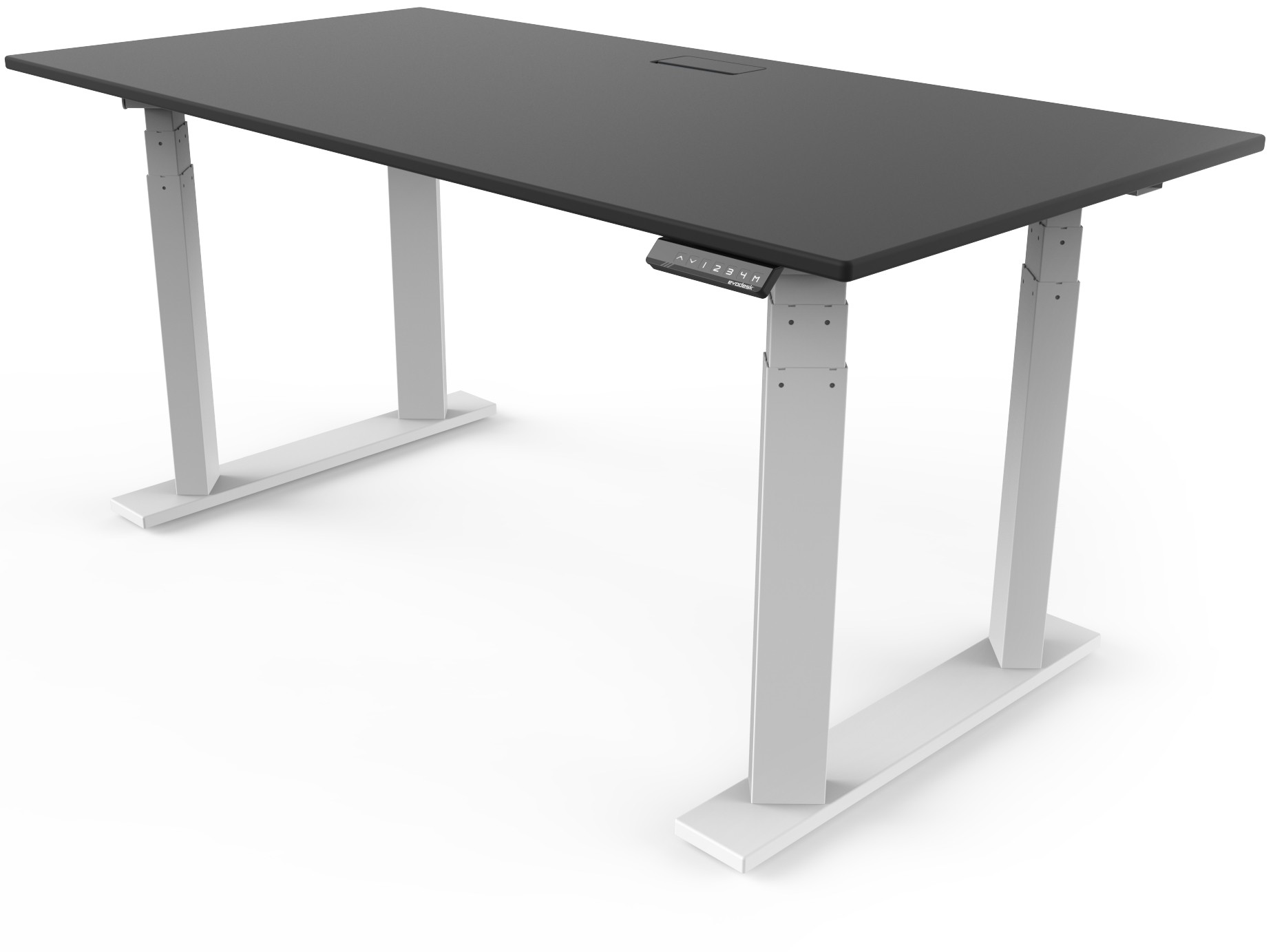 WE LIKE TO START
FROM THE FRONT.
IN THE LEAD.
Evodesk was introduced to the world and immediately set the value benchmark. Our goals have always been lofty, and this one is no di?erent. How do we defend our position? By always being one step ahead. Evodesk engineers set out to create the next Evodesk that can do more, lift more and consume less than ever before. The new Evodesk Pro answers questions about the future of the power-adjustable desk with a quantum leap in performance.
Quality

Comes Standard

See what makes our standing desks stand out. Compared to the competition, there is no competition.
Compare

Standing Desks
The Other Guys
Desktop Specifications

100% reclaimed/recycled wood desktops
Available in 100% Recycled wood, Natural Bamboo, or Reclaimed Rubberwood
EvoGuard™ durable & stylish non-VOC seamless coating on 100% Recycled wood.
Natural Bamboo and Rubberwood protected by 100% solid ultraviolet cured finish (non-VOC and solvent-free)
Soft comfort edges eliminate nerve compression and pressure fatigue
Corners are slightly rounded for improved safety and style
Oversized 3" x 6" Cable Pass Through
Pre-drilled for quick and easy setup
Available sizes: 48" (30" x 48" x .75"), 60" (30" x 60" x .75"), 72" (30" x 72" x .75"), 84" (30" x 84" x .75")
Available Finishes:Carbon Black, Polar White, Slate Grey (in EvoGuard™) - Light, Medium, Dark UV cured finish (in Rubberwood & Natural Bamboo)
Meets California Air Resources Board's (CARB 2) stringent emission standard
Evolution™ Frame Specifications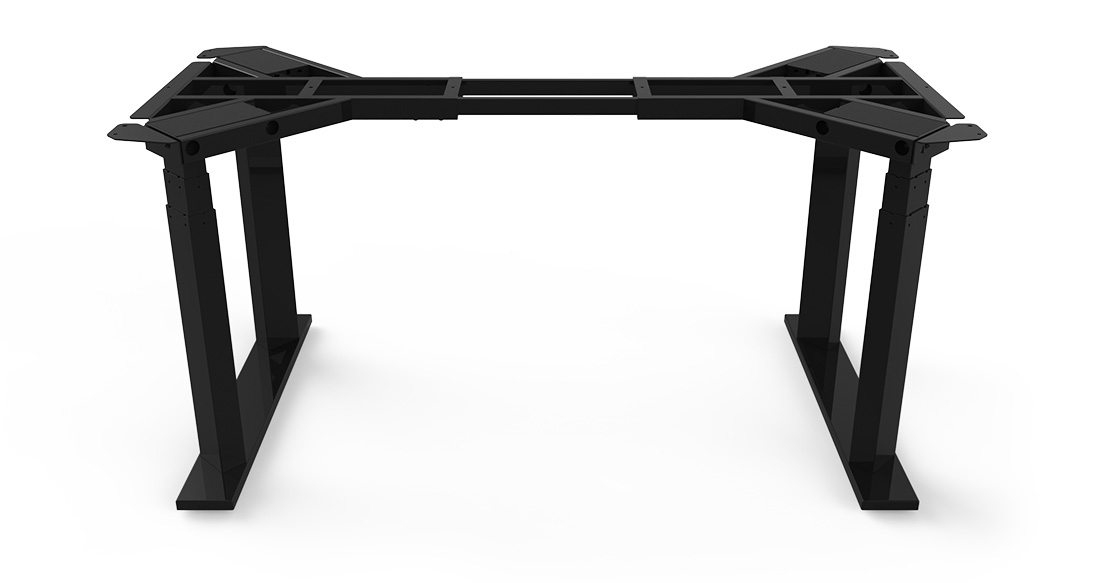 Power-adjustable height with over 250 positions
Expandable frame works with any 48" – 90" desktops
Low-profile push button height controller
Best-in-class 1.5 inches per second transitions
Best in class 500 lbs frame weight capacity
Best in class maximum height: 49.5"
Min height: 23.75"
Solvent-free and environmentally friendly finish
EvoSync™ guidance system ensures precise & level movement
Dust, air, and moisture resistant frame design
Frame and motors are backed by a no-nonsense 2-year limited warranty
Systematically
Enhanced.
All the Right Tools Onboard
We offer a number of standing desk options to make Evodesk even more enjoyable. Choose from our popular choices such as the programmable memory controller, cable management tray, monitor arms, or our latest innovation, the integrated Harmon Kardon sound system.

Digital Programmable Controller
The perfect position. Every time.
Our most popular option, the Programmable Controller lets you store four positions height positions of your choice. Glide to the perfect sitting or standing heights with the press of a button. Save and store your favorite four positions, so you never have to guess again.
Learn More ›
Evo Keyboard Platform
Greater Comfort. All Day Long.
Whether you are standing or sitting, the Evo Keyboard Platform is designed for your perfect, ergonomically correct position. Simply slide the Evo Keyboard Platform out from under your desk and position it for maximum comfort with minimal effort.
Learn More ›

HARMAN KARDON® Built In
Perfect Sound. Perfect Location.
Designed for both form and function, the Harman Kardon satellite speakers and subwoofer deliver world-class sounds with a major wow factor. See why the transparent, minimalistic design is a permanent feature in the New York City Museum of Modern Art.
Learn More ›

Ergo Edge™ Desktop
More comfort. More reach.
Improve your comfort, productivity, and effortlessly reach 22% more of your desktop with the Ergo Edge's unique shape and angled palm rest. Crafted to follow the natural curve of your body, this ergonomically superior desktop gets you in the optimal human position.
Learn More ›

Evo Monitor Arms
Free up valuable desk space.
Free up your desktop and ease eye strain with space-saving monitor arms. Adjustable. Dynamic. Multiple monitors can make you more productive whether you are converting spreadsheets or gaming while watching a tutorial. More arms means more screen.
Learn More ›

Cable Management System
Control Cable Chaos.
Clutter is not an option with the cable management tray. Your cords go through the SmartPass opening, run through the custom-made steel tray, and stay organized. You'll never have to deal with unsightly dangling cables again, or any of the problems that go with them.
Learn More ›

Evodesk Casters
Mobility Just Became Adjustable.
Turn your Evodesk into a mobile workstation with casters. Oversized 3" wheels are crafted for smooth, even rolling on any surface type. They swivel easily and dependably lock in place when you are ready to park. Glide into the future of standing desks with stylish casters.
Learn More ›

Evo CPU Mount
Space-saving organization
Protect your CPU and keep your PC tower close. Whether sitting or standing, the CPU is always in reach, rising and descending with your every move. Reduce dust intake and PC clutter all while keeping your tower securely fastened under the desktop.
Learn More ›

Treadmill System
Customize Every Detail & Option
The Evodesk Treadmill takes your standing desk experience to the next level. A sleek, low profile, best-in-class treadmill allows you to exercise while working and make serious gains on both your health and your productivity.
Learn More ›
Domestic Shipping
Evodesk ships 48" desks, 60" desks and accessories via Fed Ex.
72" or larger desks must be shipped via truck lines due to size.
International Shipping
Evodesk will gladly ship products worldwide to most international destinations. The Evodesk Online Store ships within the United States of America and Canada. If you wish to have an Evodesk or any of our products shipped internationally, please use our international shipping form to obtain a shipping quote.
Options for home delivery
Desks that are 60" or smaller will be delivered via Fed Ex.
For desks that are 72" or larger, there are two types of delivery options: curbside delivery or inside delivery. With curbside delivery, the driver will bring the desk to the end of the driveway at the delivery location. The driver cannot transport the desk under any coverings or inside your delivery location. Depending on the shipping company, they may remove the item from their truck. The second type of delivery is inside delivery. In this instance, the driver will carry the item inside your home. Extraordinary delivery requirements, such as a multi-level building, may incur additional delivery charges.
Inspecting shipment for damage
Many of our desks are large and rather heavy. Do not sign for a package before you inspect it. First, inspect the box for obvious damage. We then recommend that you open the box that contains the desktop to inspect for concealed damage. Once the driver leaves it becomes the buyer's responsibility to file a claim. Call the carrier immediately for instructions or visit their website for detailed instructions.
Large Desk Deliveries (desks 72" or larger)
The carrier will typically call to schedule a delivery appointment. Appointments are available during normal business hours and a 4 hour period. Please include a daytime phone number in the shipping information at the time of checkout.
Shipping date
Please allow 1-3 days for order processing. Transit time is normally 2-4 days.
Returns
We believe you'll be thrilled with your new Evodesk. We go out of our way to ensure that each Evodesk is designed and built exactly to your specifications. However, we understand that sometimes a product may not fit the space or the needs for whatever reason. In that unlikely event, we invite you to return it.
Under our 30-Day Satisfaction Guarantee you can return your undamaged Evodesk with the receipt and packing within 30 days of purchase for a full refund of the purchase price minus any shipping or installation charges. If the Evodesk is returned within the 30-day timeframe, and it is in its original condition, we'll exchange it for either a new desk or a refund based on the original payment method.
How to return
Prior to shipping your item back to Evodesk, you must call, visit our contact our page to obtain an RGA number. To avoid damage during the return, it is required that you ship any return to Evodesk in its original or equivalent packaging. You must ship any Evodesk product to the address given to you when your RGA number is issued. It is important to write the RGA number on the outside of each box, so we can issue you the credit.
Refunds
Refund processing is dependent upon your original payment method. Credit card refunds will be issued to the same card bank within 7 business days of receipt of the returned item. If you paid via cash or check, we will mail you a check to your billing address within 14 days of receipt of the returned product.
Warranty
At Evodesk, we believe that trust and confidence come from being able to rely on your desk to perform, every day. That's why your Evodesk and its motors are backed by a 5-year limited warranty.
And with the optional extended warranty, you get the same great coverage for an additional 3 or 6 years for 8 or 11 years total. Just sign up for the extended warranty at checkout or call us to extend later.
30 Day Satisfaction Guarantee
In addition to offering a no-nonsense warranty, we also offer a 30-Day Satisfaction Guarantee. Try Evodesk for 30 days risk free, and in the unlikely event that you are not happy with your Evodesk for whatever reason, we invite you to return it. You can return your undamaged Evodesk for a full refund of the purchase price (minus shipping charges) within 30 days of purchase as long as it is in its original condition with the receipt and packing.
popup
Thank you for signing up to be notified, we will send you an email when the options are available for order.
Extended Lead Time
Due to overwhelming demand, the following options are temporarily out of stock. We apologize for the delay.
Get Notified
If you would like to be notified when this product is back in stock, enter your email below:
Proceed with Order
Your order will ship shortly after the options become available (credit cards are charged immediately).
Est. In Stock Date: -
Add to Cart